We are now open at our new location!!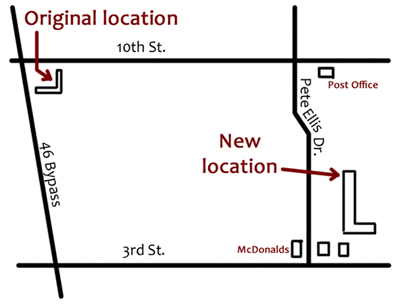 ---
News! (updated 7/16)
MTG Legacy Tournament - Gonna give up a "Show and Tell" from Urza's Saga at our MTG Legacy Tournament. The event will be held on Sunday, July 20th. Registration will begin at 1pm. More details here.
Opening at 5:00pm for Seven Days in July - From Monday, July 21th to Friday, July 25th, on Monday July 28th, and on Tuesday July 29th, we will be opening at 5pm. We will return to our regular hours (Noon to 10pm every day) on Wednesday, July 30th. Thanks for your patience!!
Military History Classes - Local military historian Mark Acres will be teaching three 4-part courses on the 30 Years War (July), and World War I (August). More information here.
MTG Modern Mondays! - We are now sanctioning a MTG Modern tournament beginning at 6:30pm every Monday. Bring your deck and come on down! Five dollar buy-in. Prizes!!
MTG Standard on Sunday & Wednesday - We host MTG Standard events on both Sunday and Wednesday. Activities begin at 6pm on both days!!
Board Game Day - Every Saturday, we host casual, pick-up board gaming. Many Saturdays we also host demoes of specific games. We encourage all board game enthusiasts to join our games library (a cool $25 annual fee grants you access to our ever-growing collection of the finest board games.
Fantasy Flight Games Organized Play - Every Tuesday beginning at 5:30pm, we will be hosting organized play for Fantasy Flight Games titles, including the Lord of the Rings LCG, the Game of Thrones LCG, the Call of Cthulhu LCG, Netrunner, the Star Wars minis game and LCG, and more. We also host Netrunner League games on Tuesdays and Saturdays.
Friday Night Magic - On Friday, July 18th, we will be holding an M15 booster draft. Sign-up begins at 6pm; play begins at 6:30pm.
Tuesday Night Drafts - We will be hosting "kitchen sink" drafts on Tuesday evening beginning at 6pm. Participants each choose three boosters of their choice, which should make for some drafty good times!
Free MTG Standard on Fridays - We are now sanctioning MTG Standard play on Fridays. No buy-in! Prizes! Play will begin at 6pm.
Sign-up for Pathfinder Society - We utilize online sign-up for Pathfinder Society. Guarantee your spot at one of the tables by signing up. Sign-up goes live on our website at 7pm every Tuesday. Walk-ins will be seated as space allows. Details on our Store Events page.
---
The Common Room, located at 223 S. Pete Ellis Drive in Bloomington (at the north end of Williamsburg Village)), strives to be the gamers' game store. We stock the best in collectible card games, roleplaying games, miniature-based games, board games, and gaming supplies. We also boast the finest gaming rooms in town and offer both a private gaming room and a common area for open and tournament gaming (event calendar). In addition, our games club and library give you ready access to many of the most popular tabletop games in the industry.
If you have any questions about our inventory or policies, feel free to contact us by phone at 812-333-GAME (4263), or via our online contact form.
---
Copyright © 2011- Common Room Games LLC
Contact : 812.333.4263 | ask@commonroomgames.com